Understanding the journey a buyer takes to find learning resources is essential. This article maps out the buyer's pathway to learning resources that best suit their needs.
As a teacher-author, it's important to understand the journey a buyer takes to find your products. Let's chat about identifying the pathway to learning resources that fulfill their needs. Doing so will give us a solid starting block for effective design through everything we do.
In this article, we'll explore the buyer's journey and discuss design ideas for consideration to guide a potential buyer on a pathway to your learning resources.
Mapping the pathway to learning resources
Let's start by mapping the typical phases a buyer goes through when making a purchasing decision.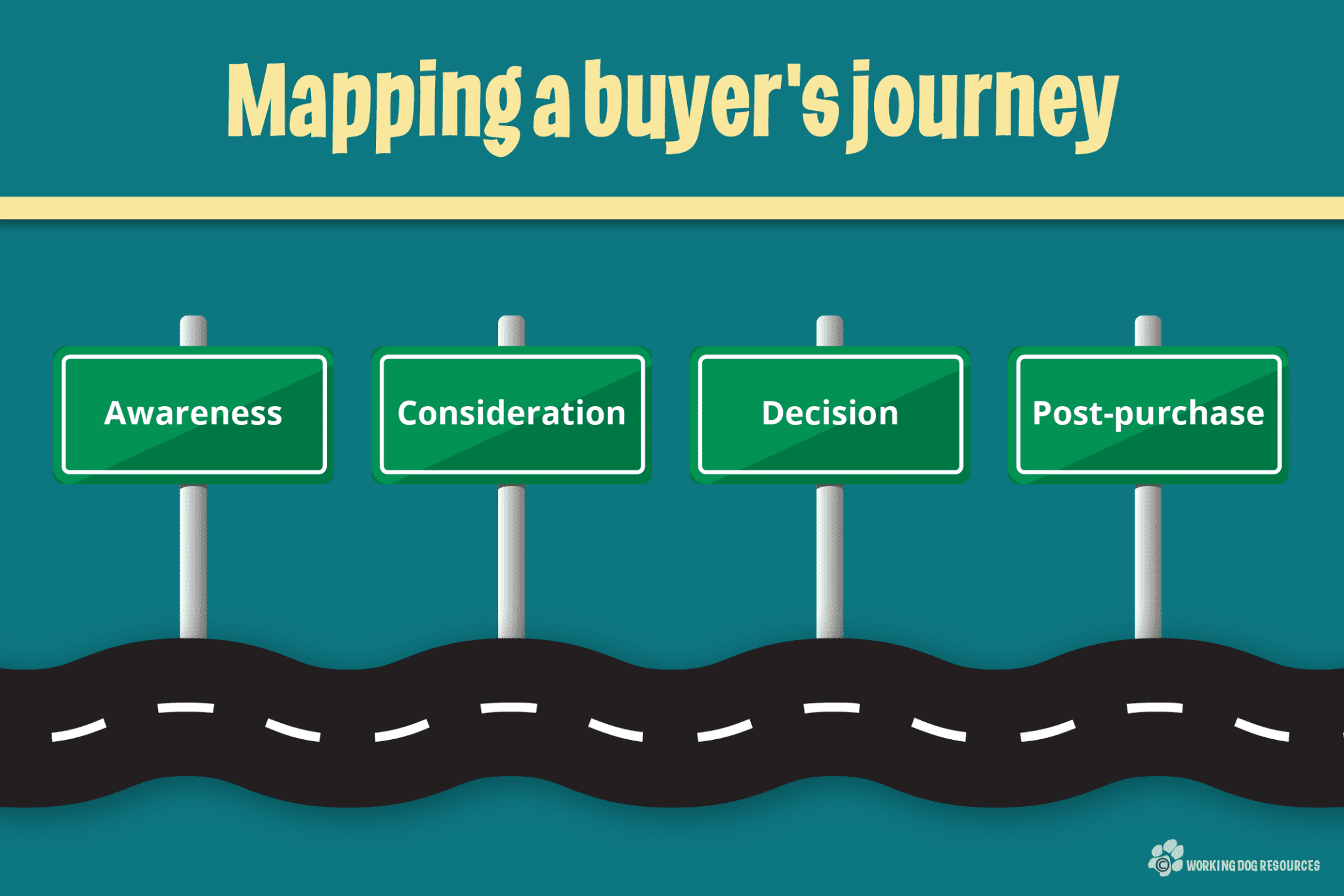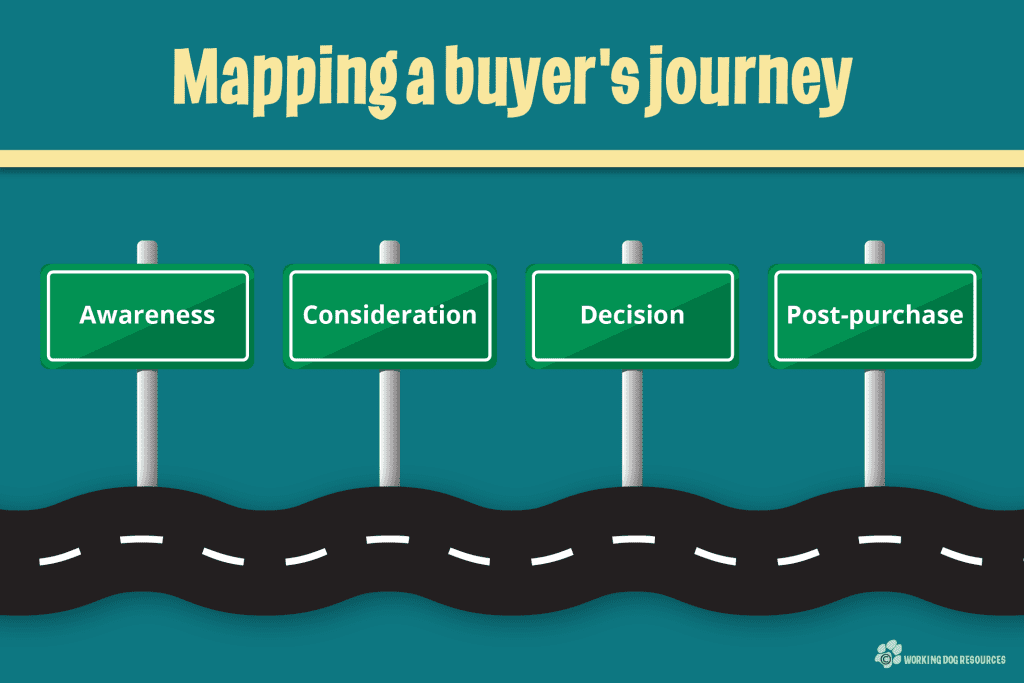 Awareness stage: attracting potential buyers.
The first stage of the buyer's journey is the awareness stage. At this point, potential buyers are looking for a solution. They are becoming aware of what they need and starting to discover what is available.
To attract potential buyers, design for what is most important to them. Use appropriate graphics, photographs, and fonts. Focus on clarity to help the buyer to navigate your offering. You only have a small window of opportunity to catch their attention. Make it count. Every element on a page should have a purpose in your design. If it doesn't – don't use it.
Consideration stage: providing relevant information.
In the consideration stage of the buyer's journey, potential buyers have identified their problem or need and are actively researching solutions. This is the stage where you can provide them with relevant information about your product or service.
Designing the product preview is a key component of doing this. It's important to provide information that addresses a potential buyer's specific pain points and shows how your product can help. By providing valuable information in this stage, you can build trust with potential customers and increase the likelihood of them moving to the next stage of the journey.
Decision stage: encouraging action.
The decision stage is when potential buyers have decided on a solution and are ready to make a purchase. At this stage, it's important to provide clear and concise information about your product, including its features, and benefits. This can be done in both the product description and preview.
Design with clarity and relevance to make it easy for them to take action. You can also offer incentives, such as value-adds and upselling to bundles. Answer any questions promptly.
Post-purchase stage: building loyalty and advocacy.
The post-purchase stage is a crucial yet often overlooked phase. It's a bit tough to do effectively on platforms such as TPT because of the limited opportunities to follow up with your buyer. You can encourage buyers to leave reviews and share their positive experiences with others. Take any feedback on board positively and act immediately on any rectifications if a problem arises.
In terms of design, to help build loyalty and awareness develop a unique and memorable brand that carries throughout everything you do.
The pathway to finding your learning resources on TPT
One thing we should absolutely take full advantage of is the consideration of any design collateral and techniques to build your brand recognition. Take all opportunities to reinforce your brand and potential buyers will start to remember you. I will discuss branding in much greater detail in future articles but for now, it's all about identifying the pathways to learning resources.
Let's consider how a buyer finds your product. In a nutshell, they come from outside of the TPT platform, inside the TPT platform, and through word of mouth.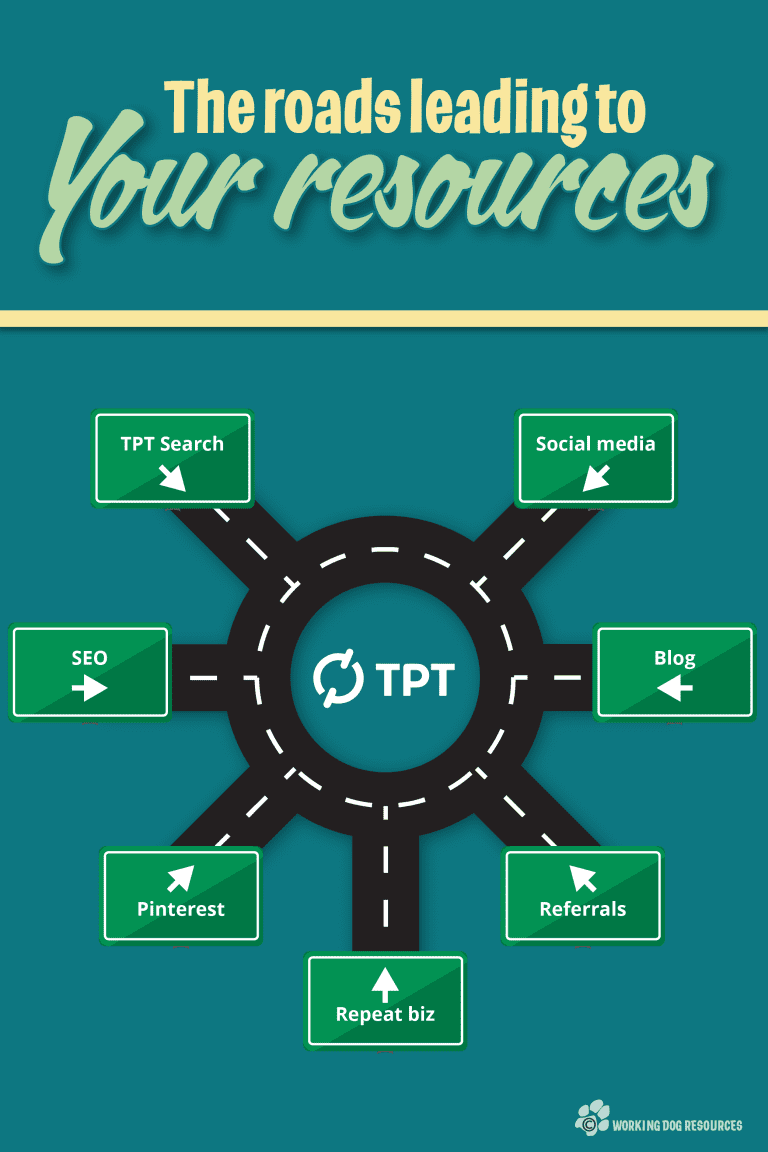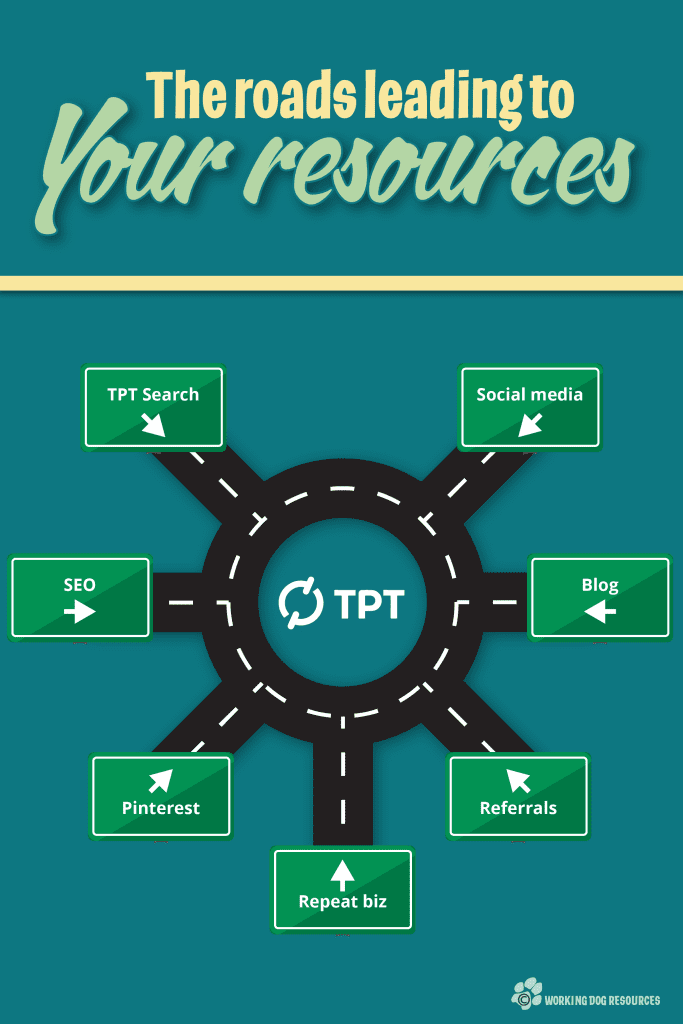 External
Internal
Through search on the TPT platform
Repeat business
Word of mouth
Referrals
Seeing your product in use
Each avenue is an opportunity to communicate with your potential buyers so be consistent in your visual identity (and brand voice). This certainly doesn't mean you need to have everything looking the same. It's about creating a mood befitting you're your brand's unique identity. Ideally, you want a presence that becomes recognizable as your brand and that goes well beyond just the placement of your logo. Every brand is different so every approach to opportunity should be tailored and developed strategically.
Oh! And don't forget about word of mouth in your design. It's often an overlooked avenue but it's an important one. One of the most simple and effective things you can ensure you do is to have the presence of your brand on your products. It doesn't need to be intrusive – just a small inline copyright or web address. Something to identify where the product came from.
Have you noticed how I just jazz up my copyright in outward-facing marketing such as these blog posts? Take a closer look at my copyright on the infographics. They have the Working Dog's 'stamp' of approval.
The pathway to learning resources within the TPT platform
Have you seen the previous Working Dog blog article titled How to create TPT product covers that stop the scroll? You may recall this infographic below.
Let me reiterate it here because this is the pathway a buyer takes to make a purchasing decision. Keep this in mind whenever you are creating products.
This pathway is the essence of a design discipline called User Experience (UX) design. UX refers to how people interact with an online product or service. It's about making sure that the marketplace is easy to use, visually pleasing, and meets the needs and expectations of the users. The good thing is that UX path is already established within the TPT marketplace. The great thing is we can use this UX pathway as a framework to guide our buyers to purchase our product. Let's consider that path.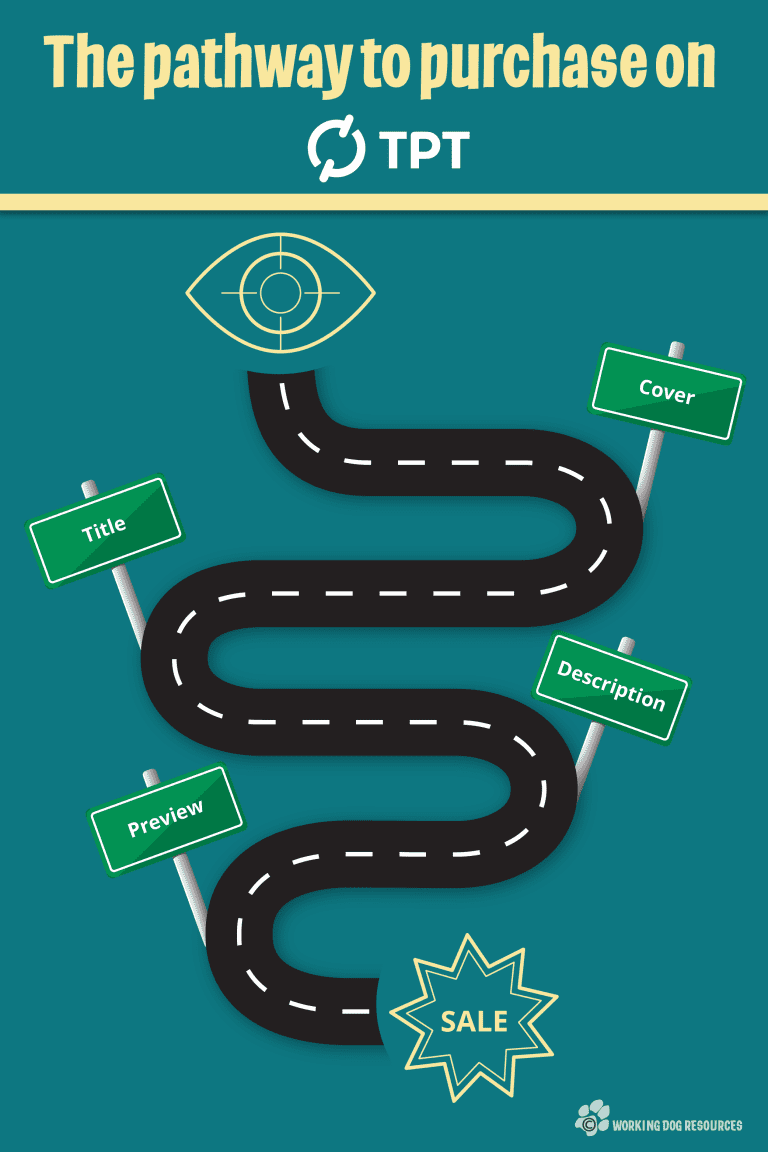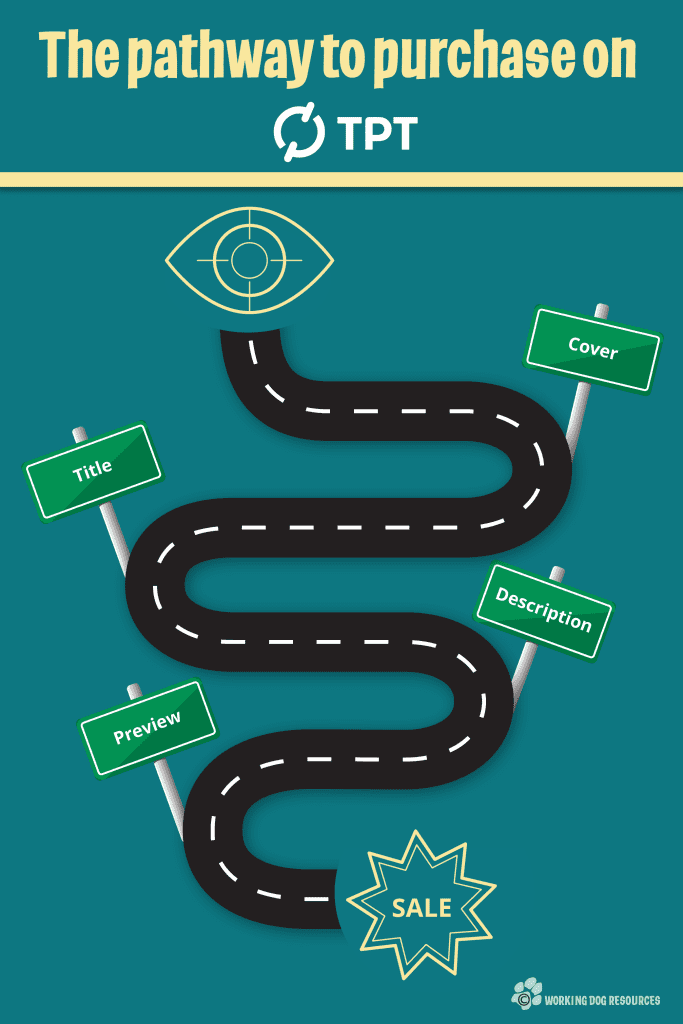 Cover
Your cover is the graphic that appears amongst others when a search term is entered.
Title
The title appears under the cover and should be indicative of the product and SEO considered.
If your cover and title resonates with the viewer they click on the cover to learn more about the product. It is at this point we should elaborate. So, do not feel you need to put everything into the cover.
Description
This is a text based description of your product. It should be SEO friendly and the text well-formatted for the reader to scan.
Preview
This is where you elaborate on what is in your product and the benefits to the buyer.
Note: Points 3, and 4 may not necessarily be viewed in this order.
Leading buyers down the pathway to your learning resources
When it comes to directing potential buyers to your products consider how yours stacks up against other sellers with similar products. Keep this at the forefront of your mind when designing. Remember everyone is vying for the attention of potential buyers and on the whole, the level of design is getting better and better on TPT as the marketplace has become more competitive. For optimum results, make sure you take the time to clearly design each and every part of the pathway to learning resources.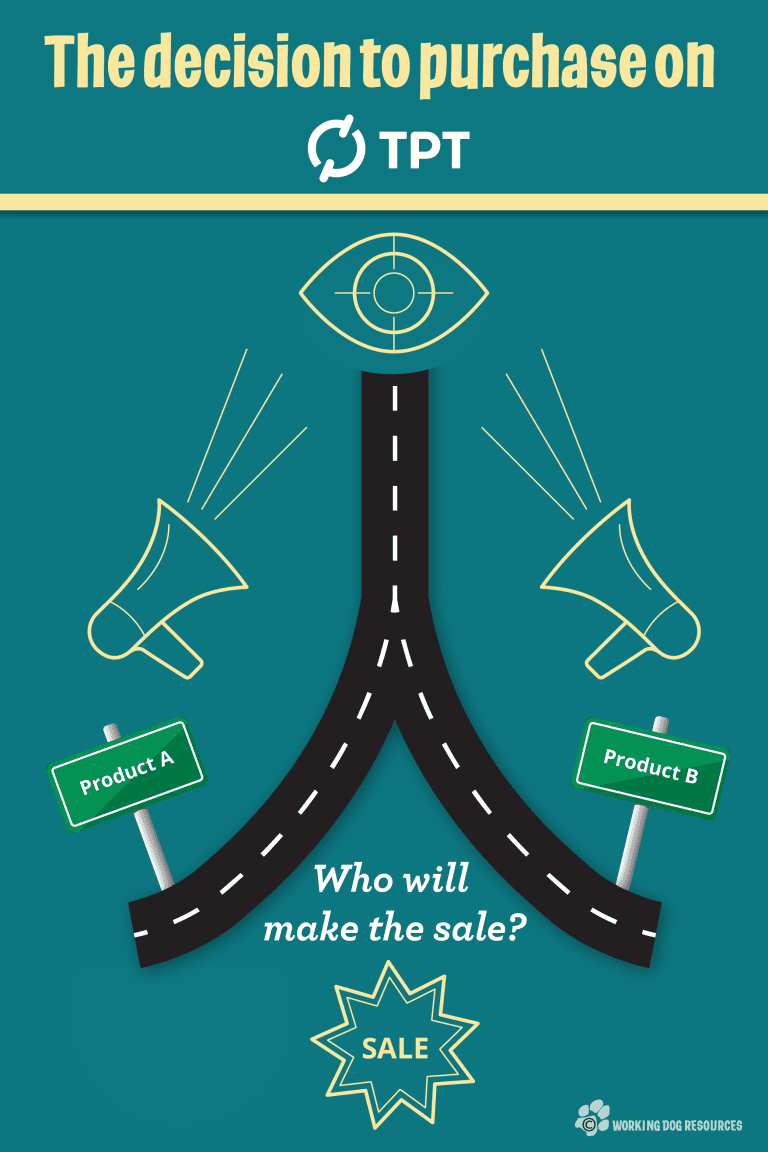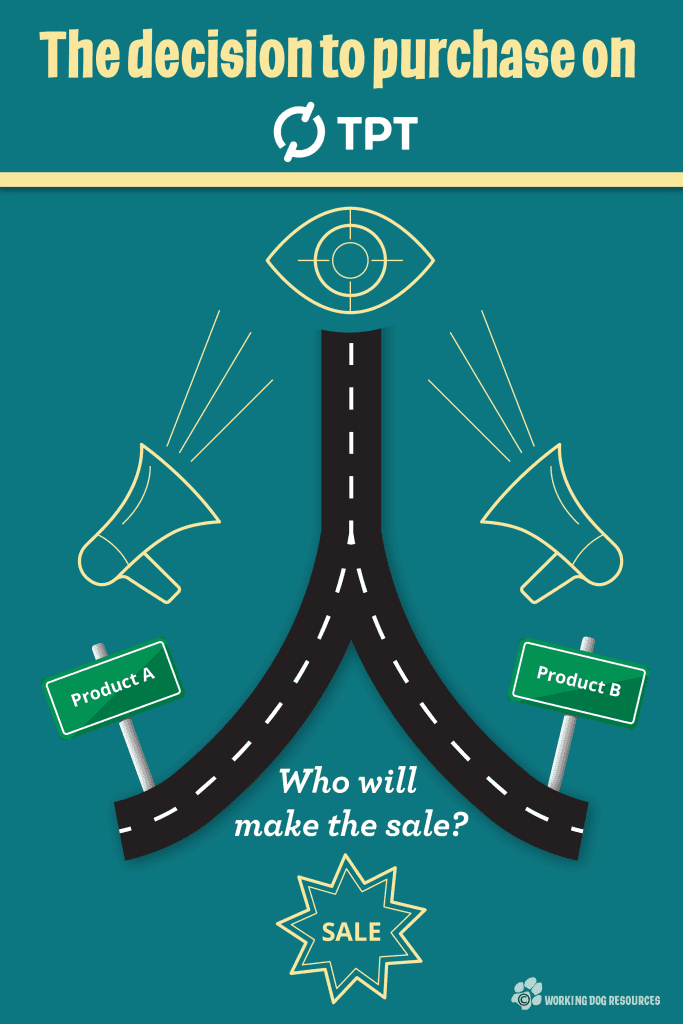 Where to from here?
Understanding the pathway a potential buyer takes to finding your product on TPT is an important part of the product design process. These principles are part of the bigger picture when it comes to product design and a functional approach to design should be at the center of that.
If you like what you read why not sign up for my graphic design and branding course bundle for only $79 for both courses? That is an 80% saving on the second course.